Hi there! Welcome to I'm So Glad My Suffering Amuses You, the blog rated #1 among North American weasels and 4th for all weasels world wide. I'm Dave-El and despite what you may have heard, I do not have the powers of a weasel.
So what's the deal with weasels? A few days ago, this hashtag was trending over on Twitter:
So as is my want when I'm really, really stuck for an idea, I gather my Tweets from over there and bring them together over here to make a blog post of Reheated Tweets.
Hot Tub Time Weasels
Paul Blart: Mall Weasel

(

Also-Paul Blart: Mall Weasel 2)

Fifty Shades of Weasels
The Danish Weasel
Mad Max: Fury Weasels

(Furry Weasels?)

Bridge of Weasels
Batman V Superman: Dawn of Weasels
Straight Outta Weasels
Star Wars: The Weasel Awakens
And to show I'm not above stealing material from myself: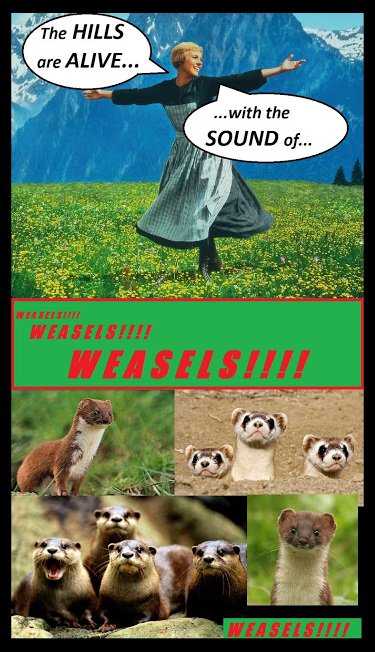 And this is all I have to say for today's blog post.
Except a reminder that I can be found on Twitter here.
Oh to remind you to have you weasels spade or neutered.
And one more thing, I'll be back with another post tomorrow.
But that is it. There is no more that I'm going to say here in today's post.
Remember to be good to one another.
Dammit! OK, there was that thing! But seriously, that is it! This is it for today's post. I will not post one more thing today.
DAMMIT!